Are You Ready to Finally Complete Your




High-Converting Opt-In Offer?
Stop Struggling to Get Everything Done!
"Steal" These Ultimate Fill-in-the-Blank Opt-in Templates

and Save Yourself a Ton of Time.

If you've been struggling to create your opt-in offer and start building your audience of potential customers, you are not alone.

There just doesn't seem to be enough time in the day to get it all done. There are too many moving parts if you want to get it right and grow your email list with targeted leads that will easily turn into customers.

Well I've got something that will help. So you can stop:
Spinning your wheels on what to write in your opt-in
Stop trying to figure out how to format and structure your offerings
Stop falling behind on marketing tasks you know are necessary but you don't seem to have time for
There's really no need to struggle anymore!
These Ultimate Fill-in-the-Blank Opt-in Templates will give you everything you need to complete your high-converting opt-in while

saving you tons of time.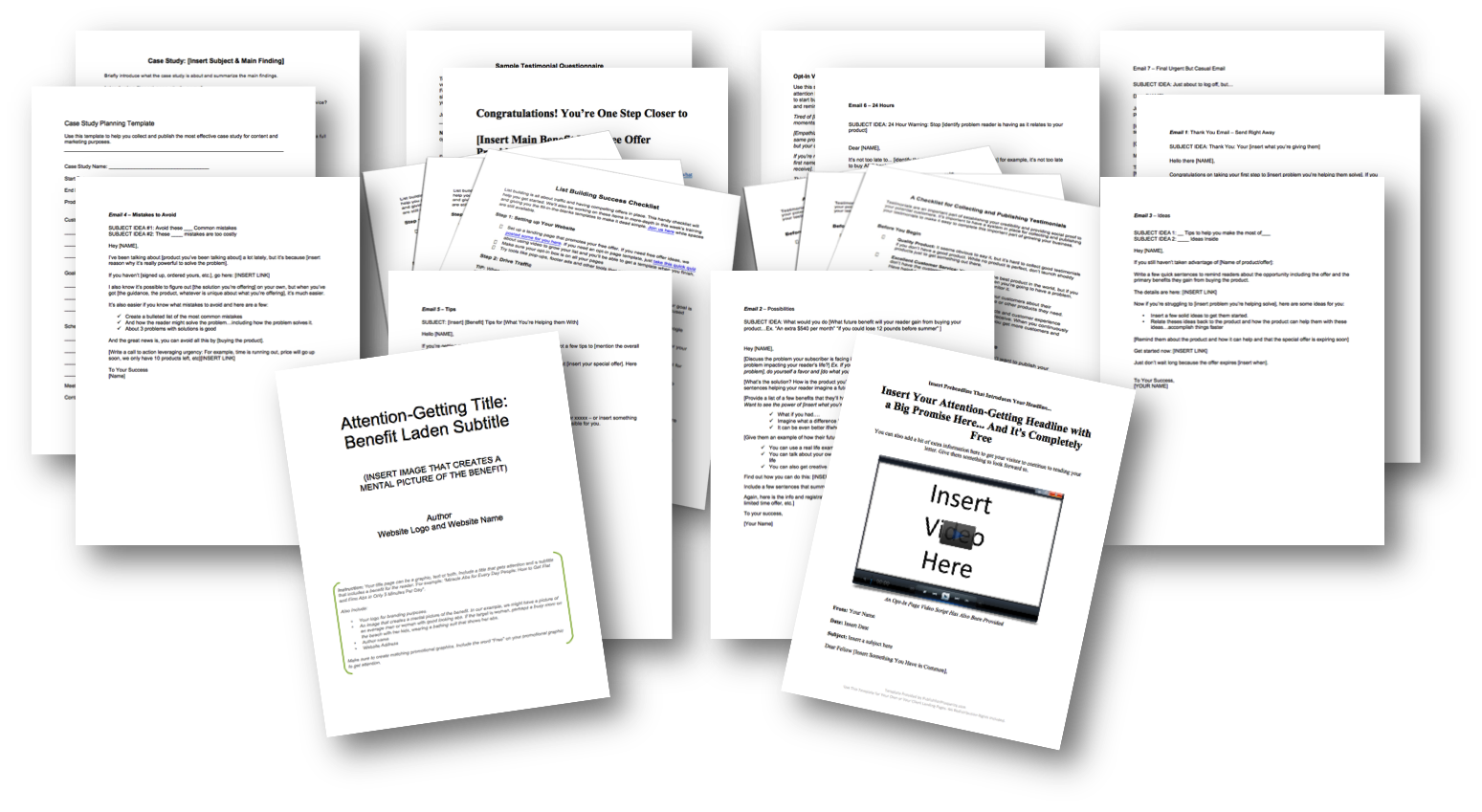 Here's what you get:

 Case Study Templates:
Case Study Content Template

Case Study Planning Template

 Email Follow Up Templates:
Thank you
Possibilities
Ideas
Mistakes
Tips
24 hours
Final hours

 Free Report Template

 List Building Checklist

 Opt-in Page Template

 Opt-in Video Script

 Testimonial Templates
Testimonial Checklist
Testimonial Questionnaire

 Thank You Page Template
All of these fill-in-the-blank templates can be yours now!
Imagine not having to start from scratch. Think of the time you will save, not to mention, how many targeted subscribers you could start getting on your list asap.
My name is Cecilie Aslaksen
I've been running online businesses for more than a decade now, starting with a fabric shop, and now I create online courses and resources for everyone that wants to start and build a business online, no matter what niche. 
I'm a work at home mom, which given 2020 is a good thing, and I've raised 3 children with diagnosis, while doing so. I'm married, I have adopted cats, and I'm also a foster care home for dumped kittens. I'm introverted, I have battled anxiety, depression and PTSD. So I guess it would be fair to say – I've managed to juggle a few balls in the air at the same time. I've got a bachelor degree in economics, but that doesn't mean I haven't done stupid things financially in my lifetime. If you want to know more about me, press here. 
Let's Get Started
Get your opt-in offer and funnel launched successfully with complete ease using the fill-in-the-blank opt-in offer templates now and start building your list of targeted customers.
You won't find another templates bundle priced this low that will help you get your opt-in offer launched and ready to go. You don't have to put it off any longer.
Here's to Your Success,
Cecilie